Dunstan Thomas awarded Crystal Mark for new and improved SMPI statement.
2 Jan 2020
Dunstan Thomas have completely redesigned their SMPI statement for Imago Illustrations, with a focus on a simpler, more engaging experience for the consumer.

The new SMPI is based on the Simpler Annual Statement, which was developed by an industry-wide group including former chairman of the PLSA Ruston Smith and launched by the government in 2018. It sits on two sides of A4 paper and has been designed to show consumers the information that is important to them. Clients will be able to customise the three-colour palette used in the SMPI so they can align it with their own corporate branding requirements.



As part of this update, Dunstan Thomas have also worked with the Plain English Campaign and were awarded their Crystal Mark for the use of clear, easily understandable, jargon-free language in the new SMPI statement.

Gavin Tillott, Imago Illustrations Product Owner at Dunstan Thomas said:
"Our mission at Dunstan Thomas is to create clarity from complexity. This new SMPI statement cuts through the mystery surrounding pensions and will help consumers to better understand and engage with their retirement savings."
The new SMPI statement will be available for clients in their 2020 regulatory releases, which will start to be released early in the New Year. A few snapshots of the SMPI are included below.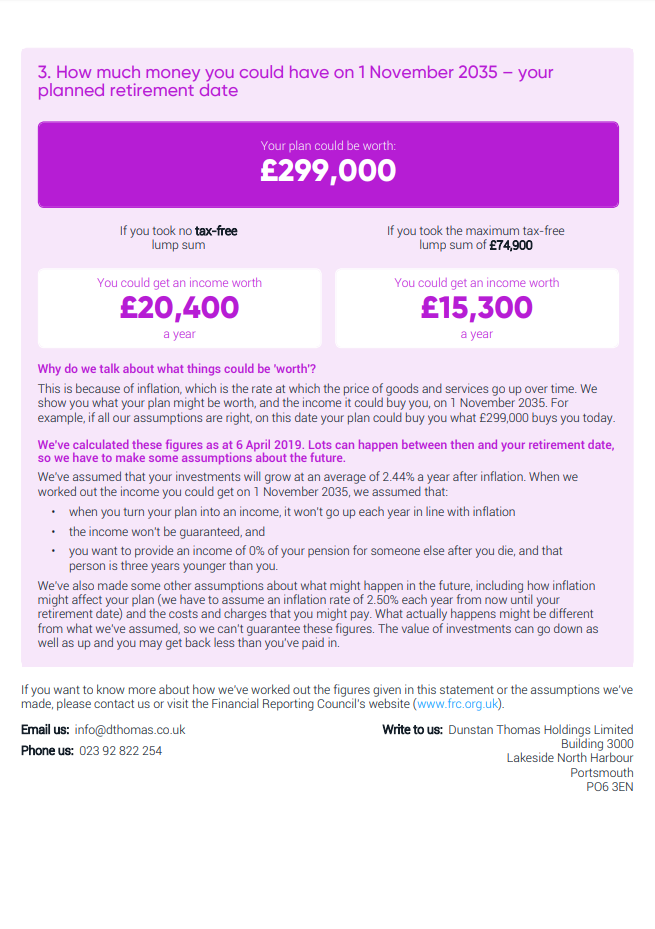 In the image below, Adrian Boulding presents Dunstan Thomas new SMPI statement to Guy Opperman, the Minister for Pensions.