Webinar: Will Pensions Dashboards increase pensions engagement?
20 Sep 2022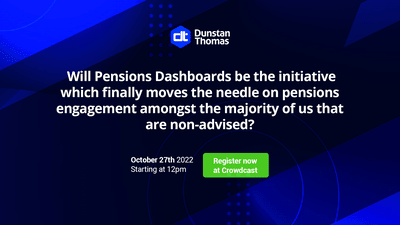 The Pensions Dashboards programme will allow users to securely access their pensions information online, in a single place. The Dashboard will provide clear and easily accessible information about the individuals pension savings, while allowing the user to connect with lost pension pots.

What should the Pensions Dashboard Programme deliver in terms of greater pensions engagement, larger pots and better at-retirement decumulation choices? It's clear that unless something radical is done to increase pensions savings levels (and pensions engagement in general) in-retirement poverty will become increasingly more commonplace.

On Thursday 27th October 2022,Pensions Dashboard Integrated Service Provider (ISP) Dunstan Thomas will host a webinar on the potential legacy of the Pensions Dashboards programme.

Will Pensions Dashboards succeed where earlier pensions engagement initiatives have failed? Is now the right time for a digital-led solution to this major societal issue? Join:
Adrian Boulding, Director of Retirement Strategy at Dunstan Thomas
Richard James, PDP's Programme Director working within Money and Pensions Service (MaPS)
Simon Boniwell, Deputy Director within the DWP's Policy Unit.
Lucy Stone, Pensions Dashboards Lead at The Pensions Regulator.
Register for the Pensions Dashboards Webinar
Imago Connect is Dunstan Thomas' Integrated Service Provider (ISP) solution. Imago Connect connects pension schemes to the Pension Dashboard's central ecosytem.
More About Imago Connect
Previous News Item