Dunstan Thomas successfully delivers first product User Group
20 Oct 2020
On September 29th, Dunstan Thomas held its first virtual user group via Crowdcast, a live hosting website. For the first time since its inception, the user group was divided up into three separate user groups, one for each of Imago Illustrations, Imago Administration and for Dunstan Thomas' portal offerings. The first session focused on Imago Illustrations, the market leading illustrations solution for wealth managers, platforms and providers.

The day was broken down into 4 sessions as follows: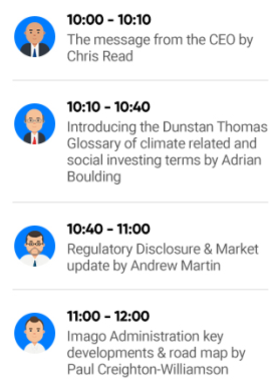 In total, 28 clients attended the event – the highest attendance ever for an Imago User Group. The new virtual format of the event allowed for simple interactivity via polls and the 'ask a question' feature. The feedback from the event was extremely positive, with 100% of the attendees indicating that they would attend another Dunstan Thomas user group.

The next event will be the Imago Administration user group, which takes place on the 28th October.