As one door closes another one opens
28 Jan 2021
Scottish born Alexander Graham Bell, noted for inventing the telephone and founding what became AT&T (the American Telephone and Telegraph Company), is also noted for the phrase: "As one door closes another one opens."

Turning our attention to America, the era of Trump has come to an ignoble end and the family Trump has finally vacated the White House. After a five hour deep clean by a highly organized team of 90 workers, the Biden's have moved in, together with their two German Shepherd dogs Champ and Major.

Donald Trump on the other hand has moved into Mar A Lago, his tremendous beach club on the Palm Beach shoreline. I suspect Donald is hoping for a more relaxed base in which to prepare his impeachment defence and get ready for other court cases that will likely fill his in-tray in the coming months.

As a slightly more universal door closes, that of Lockdown #3, most of us will be faced with the opening of another as we prepare to return to our old offices. However, like the Donald, our place of work may be different from the one that we inhabited back in early March 2020. For starters, our return to the workplace will be staggered as localized lockdown tiers are downgraded by stages.

Furthermore, attendance in the office is unlikely to be demanded by employers. Quite the reverse: the norm will be to be absent in physical form but omnipresent in the virtual. The model that many office-based industries are settling on is that of a flexible hybrid model of blending the benefits of togetherness in the office with a focus of individualism by working outside of the office for at least some of the working week.

This week Aviva announced that it is set to continue home working even after the pandemic has subsided. The financial services giant stated that staff can come in if they wish. No job cuts, no re-orgs, nor restructures, just plain working from home. Aviva is looking to have staff rotations – requiring most staff to be in the office for only one day per week.

It will of course make the mobilisation and co-ordination of staff and projects more complicated. Arguably, it will result in operations and HR team having to learn a new blended workplace methodology.

At least there will be a new market for software developers to come up with optimization tools that muster staff, their skill sets, and their workloads on a geospatial basis. For Aviva, any disruption incurred will be more than made up for through cost savings from reducing the office space they rent across the country.
Goodbye open plan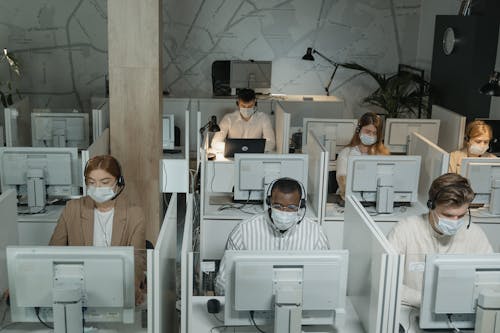 And when we finally return, the layout of the office will be different. In an article in this month's Forbes magazine, they suggest that the open-plan office is a thing of the past. The open-plan will give way to cell-style office plans, where offices will have doors again. Is it 'back to the future' of long corridors with offices behind doors to the left and right? Collections of workers will be reintroduced to the office environment by gathering and huddling together in their respective cells, with their own water cooler and Yuca plants.

Personally, I'm sceptical about this move. I am not sure that the cell-like offices will be any safer in the spread of virus than open-plan offices.

However, some research says if you can close your door, and really focus more as a result, you can push up productivity by as much as 20%. Gone will be the dehumanisation and abandonment of the open-plan office. Welcome to the individuality of your personal cell.

I remember in the 1980s when I was working at Procter and Gamble just outside Brussels, we worked in cell-based offices. I worked in the same office as some other software people. We were very efficient. Our productivity was only broken, in the morning and afternoon, as we awaited the tea trolley for our 'thé au citron' and Lotus biscuit. Mind you in the 1980s we did not have the internet to gobble up all our spare time.

The separation of work and home was very clear cut. You were either at work or not. Virtual omnipresence of work of course has muddied the clarity of the past. Any negative consequences of virtual work burnout will need the attention of business leaders and HR departments worldwide.

There is evidence that more workers are experiencing depression, anxiety, and even suicidal thoughts than at any time before the pandemic.

The Institute for Health in the Built Environment, a US body, is articulating the need to bring the outside in. Designing office space for the '100-year flu' demands buildings which are designed to draw in increased volumes of outside air, all without compromising on improving energy consumption. This makes sense, so long as you don't live in Delhi or Beijing, where the outside air is invariable more dangerous, and a lot hotter or colder, than the inside air.

However, bringing the outdoors in has is some clear benefits. In Biophilia, Edward Wilson wrote in 1984 that humans have the urge to affiliate with other life forms. The Biophilia hypothesis has been extended to workplace design. Biophilia in design fosters clarity which in turn supports productivity. It also helps to relieve and heal our senses – ameliorating depression and anxiety. It has long been known that patients in hospital who can look out of windows to see plants and life can accelerate the healing process.

So, as one door closes on the office of the past, a new door opens to the office of the future, where the outside must be brought in. Open plans have been banished, friendly interaction with pets encouraged, scented plants swaying with the seasons and water flowing through channels right through our offices and collecting in contemplative pools all feels like a positive change which may stimulate more of us to return from our WFH caves.
by Chris Read, Chief Executive Officer at Dunstan Thomas.

Previous Article
Next Article