'SIPP vs SSAS: Which is easier to exit if the boss decides to sell the business?'
29 Mar 2022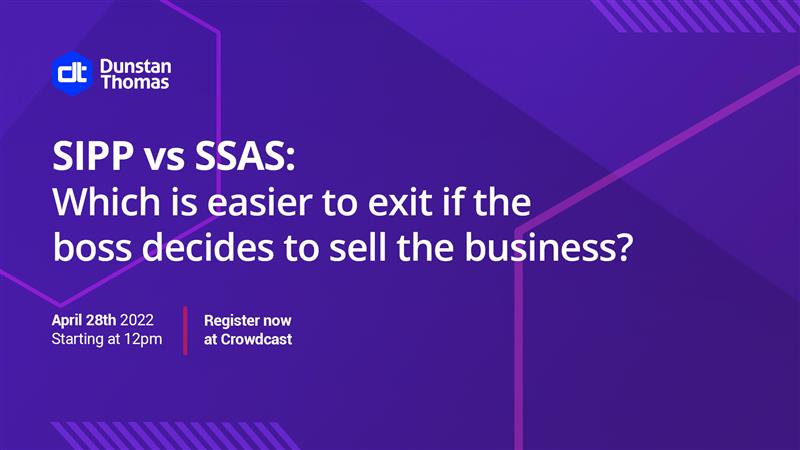 Sign up for the Webinar here
What does the session cover?
A recent Dealsuite report reveals that the number of UK SMEs with revenue between £1m and £200m which were sold/acquired in the UK and Ireland was up 59% in H1 2021 compared with the H1 2020, and an average of more than 7,500 UK SMEs sell their businesses each year.

Many SME businesses today are likely to have (co) owners' pensions 'entangled' with the business. Perhaps the SSAS or SIPP owns the premises from which the business operates. Maybe 'loan backs' have been issued by the pension to help fund plant and equipment purchases or building renovations.

Is it easier to disentangle an owner from a SSAS or a SIPP which is closely connected with the finances of a business he/she is selling?". And what are the steps in terms of valuation and extracation?
When is the session?
This webinar will take place on Thursday 28th April 2022, between 12-1pm. To sign up, click 'Save my spot!' on the right hand side of the screen.
Who are the presenters?
Adrian Boulding, Director of Retirement Strategy at Dunstan Thomas. Adrian is a pensions actuary with a wide range of experience. For the last 6.5 years, Adrian has been Director of Retirement Strategy at Dunstan Thomas, where his role has been to keep Dunstan Thomas at the forefront of pensions developments.
Martin Tilley, is the interim chair of AMPS. Martin is a Fellow of the Pensions Management Institute and has spent nearly all of his 39-year career advising on self-invested pensions. He has held senior roles at specialist Self-Invested Personal Pension and Small Self-Administered Pension Scheme providers as well as at a wealth manager, fulfilling technical, compliance, and advisory functions
TBC
Sign up for the Webinar here